Discover more from Caroline's Substack
My personal Substack
Over 1,000 subscribers
When you can't speak
What does it mean?
At the Edge
, 47x37". Acrylic and vinyl on canvas. 2021-23.
---
I'm without a voice.
It's been 12 days and counting. I've lost my voice numerous times in the past 5 or 6 years. Once, it was gone for 6 weeks. There's no telling when or why it will finally return.
Ever notice how once your body experiences a particular ailment, it seems primed for that? Suddenly, something that never bothered you, your whole life, is happening all the time.
What does it mean? It feels metaphorical. A lost voice has got to mean something.
I find myself cycling through blame, frustration, feeling broken, fear of this never ending or happening again, and mild bouts of surrender. I scribble notes to Diego that include gems like, "I'm failing at being human," and "I feel worthless," as I parse my desperation and disappointment.
I've been using dance to cycle through these places. I can inhabit each feeling completely, until its energy is spent or transformed. Then, I can paint.
---
A recent day in the studio.
---
Looking back, I've had many artistic moments coincide with losing my voice.
When I was meant to give a talk from my studio for Women & Their Work, I called in my mom to be my voice.
The Great Roberta Wright, bringing her kindergarten teacher voice to my postpartum experience and the paintings I made. (Starts 30 min in)
---
Then there was the time I had a show in New Orleans, and was meant to do an interview with a local curator. Instead, I pulled out my sketchbook and shared notes with the people who showed up. It was very intimate!
Waiting to silently greet the folks who came to hear my interview in New Orleans.
Both of these memories tie well into what I'm preparing for right now.
In November, Honey, Suckle opens at Martine Chaisson Gallery in New Orleans.
This show includes the work I/my mom discuss in the above video: the explosive burst of paintings I made after Gioia was born.
Honey, Suckle processes the experience of becoming a mother, the flattening and rebirth and 24-hour wake cycle. The messy, milky emotions of postpartum and the feral warrior spirit that emerged from giving birth alone in my home and discovering new wells of resilience within my body.
---
Please tell your friends in New Orleans. Give yourself a mini-vacation. I'm trying not to hope too hard that I can speak by then.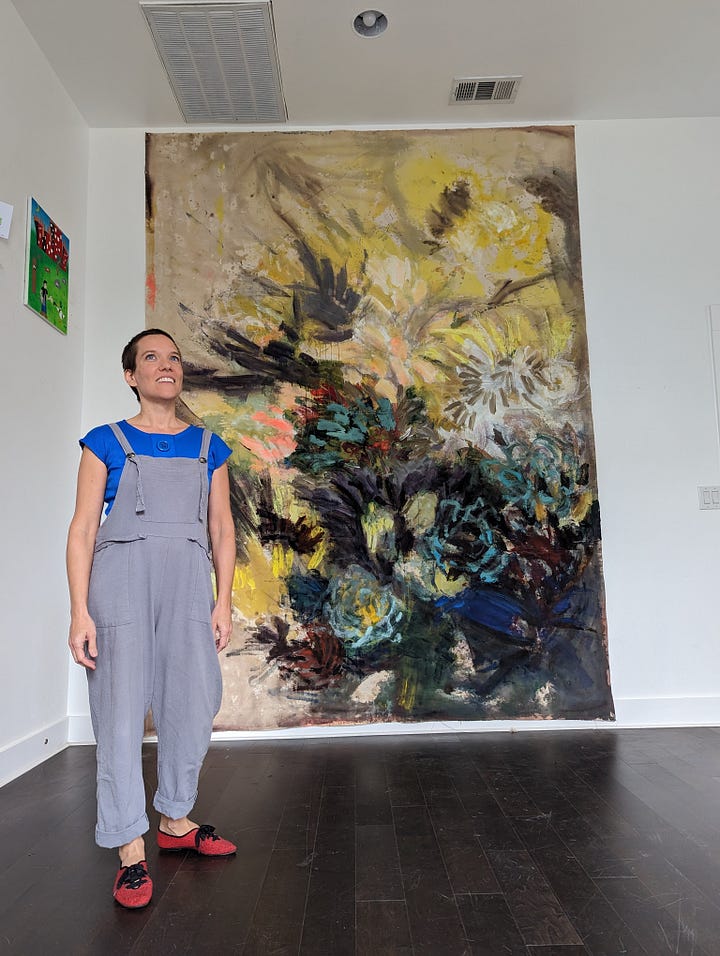 Thanks for reading Caroline's Substack! Subscribe for free to receive new posts and support my work.